Artist in Residence Program
2022-2023 Artist in Residence: Noelle Garcia
In partnership with the Center for Native Futures, the 2022-23 Artist in Residence is Noelle Garcia. 
To learn more about Noelle Garcia and her studio hours, please click here:
AIR Noelle Garcia Events & Studio Hours
Sign up to visit Noelle Garcia during her studio hours here
S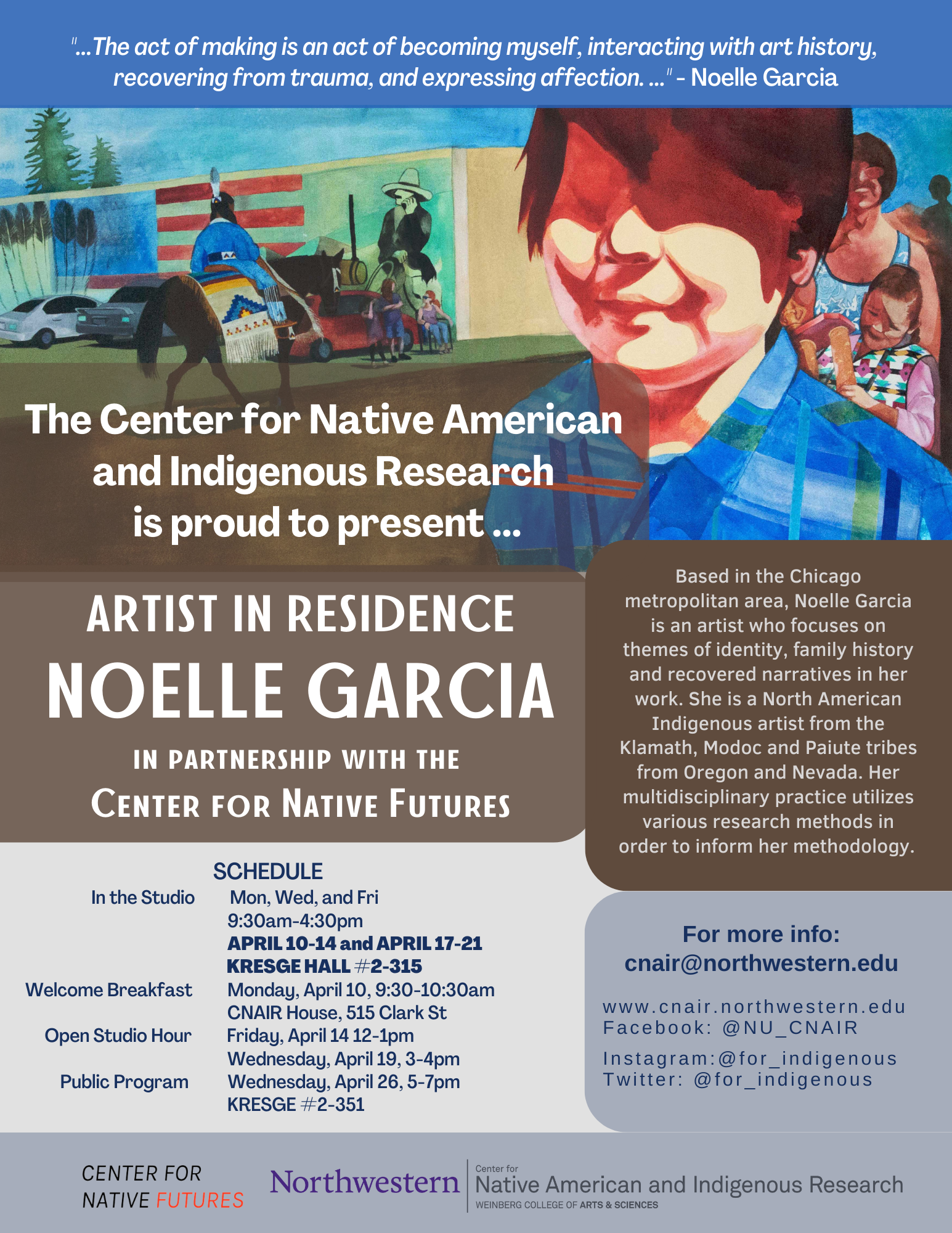 About the Indigenous Artist in Residence Program
The Center for Native American and Indigenous Research (CNAIR) is Northwestern University's primary institutional space dedicated to advancing scholarship, teaching, learning, and artistic or cultural practices related to Native American and Indigenous communities, priorities, histories, and lifeways. The Center operates as a hub for multi-disciplinary, collaborative work informed by and responsive to Native American and Indigenous nations, communities, and organizations. We foster an innovative and Indigenous-centered intellectual space that is open to multiple modes of engagement for faculty, students, staff, and community members. CNAIR commits to developing and promoting reciprocal and sovereignty-affirming relationships and partnerships with Native American and Indigenous communities.
Each year, we support an artist and/or elder in residence with work that aligns with our mission, vision, and values to further support the interdisciplinary work CNAIR is supporting. The artist/elder in residence program seeks to connect the Northwestern community with Native and Indigenous knowledge sharers (elders, artists, leaders, etc.).We believe that this program helps build community connections and also allows students and the broader community to learn more about the work of Native and Indigenous knowledge sharers. 
The program is open to collaboration with partner organizations as well as artists/elders of various disciplines, community leaders, scholars, and tribal leaders/legislators. We also seek to lift individuals who could expand people's perspectives of knowledge sharers, including individuals who hold multiple identities and/or are also part of underrepresented communities (i.e. Black, Two-Spirit, 2SLGBTQIA+, young, etc.). Some areas of interest of our programming committee for the next few years include: Tribal Historic Preservation Offices, Traditional Ecological Knowledge (TEK), Tribal Nations, and community organizations that have a Native or Indigenous focus. 
Collaborating partner organizations or participants in the elder/artist in residence program are selected and invited by the CNAIR programming circle. If you are interested in nominating an artist, elder, or partner organization please contact
cnair@northwestern.edu