Spotlight with Bethany Hughes
Bethany Hugh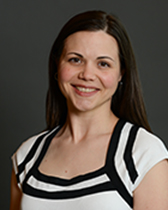 es received her PhD in Theatre and Drama in 2018. She is currently an Assistant Professor of Native American Studies in the Department of American Culture at the University of Michigan.
During her time at Northwestern, Bethany played a significant role in establishing the Native American and Indigenous Studies (NAIS) cluster. Bethany was recently interviewed over email about her contributions to the Native American Outreach and Inclusion Task Force.
Q: Tell us about your relationship and history with NU Native initiatives, the NAIS cluster and/or CINAS.
A: I began my graduate work at Northwestern in the fall of 2012. There were no formal institutional structure supporting Native American Studies or really Native students at that time. There was an undergraduate organization NAISA and a small group of invested faculty and grad students primarily located within Psychology. Chad Infante and I formed CINAS after two fortuitous meetings, the first at New Grad Student Orientation and the second by the arch during winter quarter 2013. I served on the Native American Outreach and Inclusion Task Force as a result of Doug Medin's and Ananda Marin's efforts to include diverse voices and include Native and non-Native students (undergrad and grad). I served on the One Book One Northwestern steering committee the year we read Thomas King's Inconvenient Indian at the request of Loren Ghiglione, during that year I convened the symposium Creating Nations, which focused on contemporary Native art and art making. I advocated for institutional resources and infrastructure building for Native students and Native Studies at Northwestern by serving as the NU representative to Graduate Horizons (at the request of Nsombi Ricketts) and through a series of meetings with faculty and administration, including Dean Randolph. I was invited to participate in the creation of both the NAIS cluster and CNAIR through the envisioning of strategic planning and foundational guiding principles.
Q: Why did you decide to get involved in the creation of the CINAS and the NAIS Cluster? What impact did you hope to have through this work?
A: When I arrived at NU and asked the graduate school (TGS) if there was an organization for Native students I was directed to the undergrad organization. There was no existent center/cluster/grad student organization or anything that would have been considered as a place for vibrant, energetic work in Native Studies. But I found that there were people already there committed to the kind of work I wanted to learn about and practice doing. I chose to work for a future that I wanted to see and to prioritize making the path easier for those that came after me. I decided to work at connecting the people and resources I encountered who were passionate about the work and who set examples for scholarship and generosity I still try to follow. My hope is that by trying to bring people together from across the university and beyond, I contributed to the growing energy around Native Studies and attention to the needs of Native peoples that I see happening at NU.
At the University of Michigan, Professor Hughes teaches classes on Native American Studies, Native American Representation in Pop Culture, Race & Broadway, and Performing Native America. This Winter she will be teaching a class called, "Authenticity and Representation," while working on a book project on the same topic, both of which explore the relationship between theatrical performances of "Indian" characters and claims to authenticity used to bolster the authority of those performances. To learn more about Bethany Hughes' work at the University of Michigan visit her faculty page.
Back to top